Do stair renovation yourself? dont forget a good anti-slip
Posted on: 24-06-2020 om 17:05:30 | Dennis van de Burg | Tags: Stair renovation
Stair renovation anti-slip stair strip also as a DIY package
When your staircase has been completely refurbished with PVC, laminate or Linoleum without anti-slip provision, the step surface can be very slippery.
It is good to know that you can always apply our do-it-yourself renovation stair strips afterwards.
Our anti-slip rubber tape has been specially developed for stairs. It is not a traditional thin sandpaper tape, that you easily buy everywhere for a cheap price.
No, our tape is made of a very strong PVC rubber and is therefore extremely durable and also gives a luxurious look. It is the best way to complete the stair renovation as a do-it-yourself project. If you have spent days to make your staircase renovation completely to your liking, then a quality anti-slip strip is the "finishing touch".
I have already made an extensive article about the differences in qualities of anti-slip trap tapes, read here the advantages and disadvantages, prices of the different types of tapes that are for sale.
The qualities and prices are very different, mainly because many anti-slip strips are not produced sustainably, and many different raw materials are used. Many of these anti-slip strips come from low-wage countries such as India or Malaysia.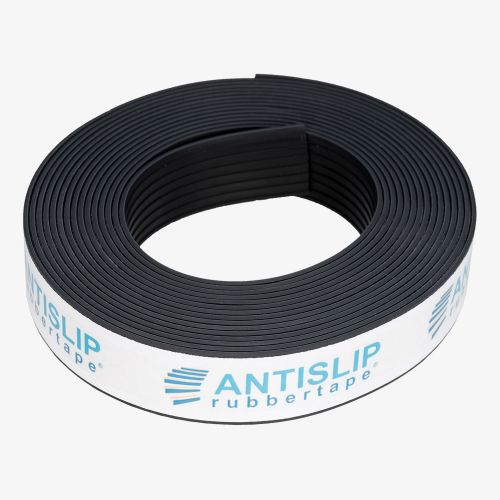 With a recessed stair strip, a slot is traditionally milled in the renovation step, a soft PVC non-slip rubber strip is clamped into this slot. Often the material of a transition step is not that thick, usually between 6 and 12 mm. The standard stair strip is approximately 8 mm high, so that there is insufficient material left over as thickness, making the transfer step vulnerable to breaking when walked on.
It is better to use a non-slip rubber tape. The transfer step then remains strong and gives a much longer life. This anti-slip has a very strong adhesive layer on the back, so that the anti-slip strip adheres very well to most surfaces, including on linoleum or laminate steps.
Do you think this anti-slip strip is too wide? Or do you want to make round edges at the ends? we also sell tools to cut the strip narrower or to provide the strip with a round end if you want a more luxurious look.
________________________________________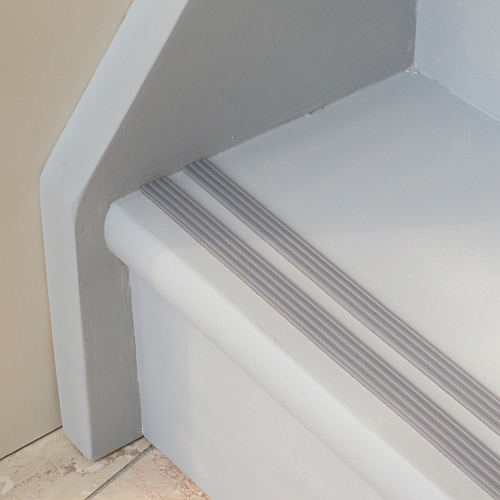 The 10 colors and 2 different lengths ensure that as a do-it-yourselfer you can do any staircase renovation with this, you can also order a complete package from us, it contains everything, which is handy.
Others enjoyed reading these blogs:
Blog writer: Dennis anti-sliprubbertape.com
Back
Comments
Login to give reaction Your comment will be posted as soon as it is approved.