The newest trends concerning Stairs & Living of 2017
Posted on: 24-08-2017 om 15:44:38 | Dennis van de Burg | Tags: Tips and trends for stairs
Trends in stairs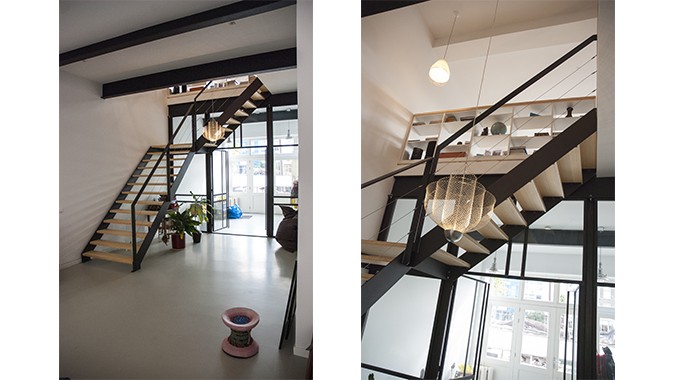 The staircase is changing in terms of model and material. The traditional spruce and hardwood stairs are increasingly making way for stairs with an industrial look.
Other materials are used. The stairs become larger, which has the advantage that it is pleasant to walk and that you are less likely to trip from the stairs. The consequence is that you have less living space because such a larger staircase takes up more space that goes away from the living space.
The traditional Dutch model of stairs is still made, but often in a different type of wood. Today, for example, there is the ecological staircase made of bamboo. A beautiful product that is super strong and perfect for making stairs. You can stain or oil the Bamboo in many colors. In addition to the material bamboo, you also increasingly see that stairs are made from the rubber tree. This is also an ecological type of wood that is slowly displacing the tropical hardwood, which is a good thing.
You also see a combination of bamboo and steel coming back more and more, the look is modern and industrial. Can be combined very well with gray tones and, for example, a concrete cast floor or a sanded smooth concrete floor. The trend of the moment.
If you have an existing house, this is not so quick and easy to realize, or you have to invest a lot and have the old stairs removed by the stair maker.
However, there are many possibilities to approach it reasonably, against a limited budget. You may be able to open the existing stairs and remove the risers from the stairs. This gives you a more spatial effect. You could have the stairs covered with a new stair renovation transition step. The 2017 collection has been expanded enormously. You can give the stairs a concrete look or a bamboo look. The dark color wenge wood has also been renewed and seems much better in terms of appearance. If you paint the sides of the stairs very dark in combination with this, you will also get a beautiful result.
It is also possible to create this industrial atmosphere by painting the stairs in a concrete-look paint or an effect paint. There are currently various brands and paint systems for sale that give a very good result by applying several layers of paint. I have written a blog article about concrete look about this before.
If you want to keep the stairs safe and not slippery, it is useful to have a groove milled in the step with a new staircase. You can then choose various colors of rubber PVC strips, but a stainless steel strip also has a good anti-slip effect on the step.
If you have refurbished an existing staircase, it is more convenient to apply a non-slip adhesive strip. It is also available in several different colors.
Other inspiring blogs to read:
Blogwriter: Dennis van de Burg
www.antisliprubbertape.com
Back
Comments
Login to give reaction Your comment will be posted as soon as it is approved.