Bohemian style for your stairs
Posted on: 08-01-2019 om 17:01:37 | Jeroen | Tags: Non-slip Adhesive strip
Does your interior have a bohemian look? Create also this vibe for your stairs!
A bohemian living is very trendy these days, a mix of different styles in one livingroom and a mixture of colors all together. You recognize this interior trend by the items of the far east. A lot of eastern and mediterrian influences can be found in this interior. Also a little bit of the hippie time can be discovered in this interior style. Bohemian is a mixture of colors, designs and fabrics all mixed.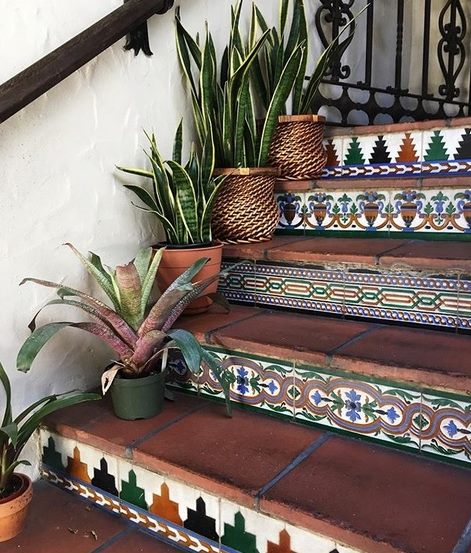 Think of natural materials such as wood, copper, fabrics such as cotton and wool. The color use of these interiors reminds us of warm summer nights in Spain, Ibiza or Marocco. A big part is about vintage old furniture painted with chalk and worn out spots, colorfull carpets and pillows, candle lights and small plants such as cactusses.
For a stairs it is also possible to create this style, think of natural wooden shades for the stair steps and for the risers you can use colors boards with tiles in funky colors for example. 
The railings and handrails could be painted in a wonderful white chalk colors to create the coolest Bohemian look.
The color brown of our antislip rubber strip tape is specially made for this type of interior and the dark brown color is a perfect match! Such as this inspiration photo where you see the brown tiles used for the stair threads and the gorgeous ceramic tiles with a wonderful print. The non slip strip creates a perfect safe stairs. 
Another cool idea is to use something such as wallpaper with a beautiful pattern. Check out this Youtube video to get inspired. Here they use black and white, but you could def. go for a nice color as well!
9 januari 2019
Back