Stair profile gives more safety on your stairs
Posted on: 06-10-2019 om 11:11:26 | Dennis van de Burg | Tags: Anti-slip solutions stairs
Stair tread profile which to use?
You have given your stairs a beautiful makeover .. you look proud at the result ... that feels good a really well done job. For a moment you think back to the moment you decided to make this worn staircase beautiful again, read everything on the internet, sanding, puttying, priming everything you have done, even provided the stairs with a white top layer for extra wear resistance. How can you avoid having to paint again in a year's time? Because that would be a disaster. You have read something about stair profiles, but is this the solution? Do I like this on my stairs? All questions that come to mind.
What is a stair profile?
A stair profile is an angle profile with ridges for an anti-slip effect and is mounted on the nose (front) of the stair step. The stair profile serves to protect your stair step against wear, damage and to prevent a slippery stair step, so it actually makes your stairs a lot safer. The stair profile is easy to apply, you don't have to be very handy or a real do-it-yourself pro. There are corner profiles for sale made of rubber that are easy to glue. The metal corner profiles are usually made of aluminum and are screwed to the step. With a hacksaw, you can saw this profile to the desired length and with double-sided adhesive tape, or with the help of screws you can easily mount the profile against the front of the stairs. Most buildings such as shops, offices and galleries where there are stairs have such a stair profile. This is because these stairs are used intensively, wooden steps will wear out at the edges. Of course you want to prevent this and that is why it is smart to place such a stair profile on every step. The step does not wear out and many of these stair profiles also provide good anti-slip due to the ridges in them.
Residential building stairs
You actually also want to protect your painted or wooden stairs in the house against this wear and tear of the steps, but such a stair profile on your beautifully painted staircase gives you a cheap look and does not look good, so you can opt for a wide anti-slip stair strip. This also prevents wear and tear on the steps, because you do not walk very intensively on the stairs in the house, compared to a staircase in a shop. Such a wide anti-slip strip is a very good alternative and some versions also look great because this wide anti-slip strip is for sale in many beautiful design colors. An additional advantage is that you can walk up the stairs again with your socks or bare feet. As a result the paint or varnish of the steps wears a lot less and the contact noises are gone for good. You can easily and safely walk quietly up and down the stairs, how nice is that? To help you make the right choice, I have listed the most common and used anti-slip stair profiles below, together with the properties and a price indication for purchasing a set for 1 staircase. I also mentioned the alternative, an "anti-slip rubber tape", to make a little bit of advertising for our own product ;-)
If you also want to see what options are available here, read my article about anti-slip tape and the possibilities.
Gallery stairs
Galleries that have concrete stairs, a stair profile is actually not necessary there, concrete hardly wears out, even marble steps or glass stair treads there is no need for a stair profile. An adhesive rubber strip can also be used for this. But in many situations the stair profile is ideal, such as stairs in shops, factories and industrial halls, or in an outdoor application on decking, steps or wooden stairs that become super slippery when it rains. Stair profiles are available in black, silver and gold-coloured aluminum and there are also models of stair profiles with a rubber inlay to provide even more anti-slip. There are PVC stair profiles for sale. These stair profiles must be combined with a covering such as a novilon vinyl, or a PVC floor tarpaulin. Then it is a beautiful sleek solution where you can apply the stair profile in a different color than the surface, this to give a nice contrast. These PVC corner profiles are also available in many different colors and various lengths. These stair noses are not so suitable to be used as a separate stair profile, the edges will curl quickly, keep this in mind.
What types of stair profiles are there?
- stair profile in an aluminum version
- stair profile aluminum with a plastic inlay strip
- stair profile plastic version
- stair profile plastic in milling cutter
Stair profile in aluminum
An aluminum stair profile comes in different lengths. There are models that you can screw onto your stair treads and there are also profiles that are attached to the stairs using double-sided adhesive tape. The aluminum stair profiles are easy to saw to the right length with a hacksaw, these profiles are usually supplied in a long length. The stair profiles are available in aluminum blank, in a black and in a gold-coloured version. The color is anodized (this is an oxide layer that is very strong and is created by a chemical process as a skin layer in the aluminum)
For a complete staircase with 13 steps, the purchase costs for this stair profile are approximately 120.00 euros. Depends a bit on the model of stairs. This profile is supplied in 3 length sizes: 1000mm, 1350mm and 2700mm.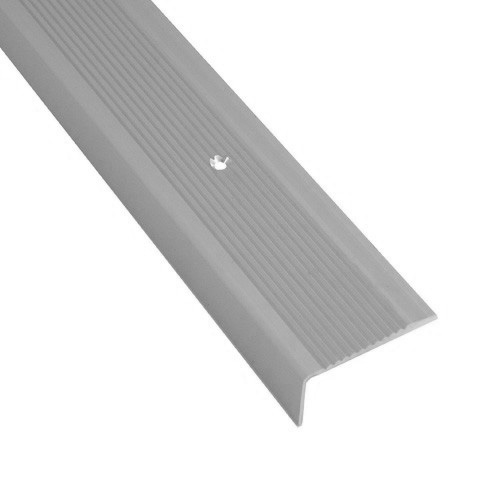 Stair profile aluminum with plastic inlay
These aluminum stair profiles have a wide plastic inlay for even more non-slip grip, the combination is extremely good and suitable for most outdoor situations and damp areas and locations where a lot of walking is done on shoes. The strip can be easily mounted with screws and is available in different lengths. This profile is also very suitable for outdoor applications. For a complete staircase with 13 steps, the purchase costs for this stair profile are approximately EUR 185.00. Depends a bit on the model of stairs. This profile is supplied in 2 length sizes, namely: 1000mm, 1350mm.
Stair profile plastic on adhesive plastic strip
Don't you find such a corner profile on the nose of your beautifully painted home stairs beautiful and chic, a stair profile that is widely used for stairs in the house is a non-slip rubber tape, these are available in different widths and thicknesses and you can easily stick to your stair treads, the wider and thicker this stair profile is, the better protection it provides against wear and tear on your stair treads, the stair profile is supplied on a roll and is made of a special type of plastic (elastomer/pvc combination) which makes this profile very strong and feels rough, the profile has an adhesive layer so that everyone can easily apply this stair profile, even if you are not very handy. For a complete staircase with 13 steps, the purchase costs for this stair profile are approximately EUR 50.00. Depends a bit on the model of stairs and the brand you purchase. This profile is supplied in 2 length sizes, namely: 5mtr and 15mtr and 10 colours.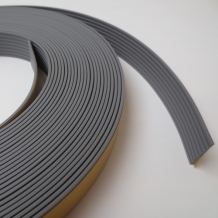 Stair profile plastic in milling cutter
This milling profile has been used in wooden stairs for a long time. It is a profile that is clamped into the stair step, 1 or 2 grooves are then made in each stair step with a milling machine, the plastic stair profile is mounted in this groove. If the strip is worn or badly damaged, you can easily remove this profile from the groove and place a new one. Unfortunately, the stair maker usually does not make this standard in wooden stairs, so many stairs do not have this groove. You can have this done by a good handyman or a specialized company. (there are several that do this) keep in mind that the costs for making such a stair profile groove are approximately 190/250 euros, depending on the number of steps. (Unfortunately it is then difficult to make the strip over the full length, because the milling machine cannot reach the corners). Added to this is the profile and the installation, so that the costs quickly rise to 300.00 euros per staircase. This profile is very good for good anti-slip, to prevent wear you should actually place 2 profiles per step.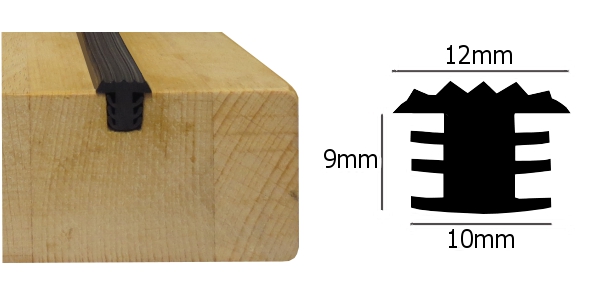 Other inspiring blogs to read:
- Painting your stairs as a renovating project
- Do-it-yourself stair renovation tips; do not forget an antislip strip!
- How to make your stairs safe - advice
Blog writer: Dennis anti-sliprubbertape.com
Back
Comments
Login to give reaction Your comment will be posted as soon as it is approved.