Stair profile gives more safety on your stairs
Posted on: 06-10-2019 om 17:23:29 | Dennis vd Burg | Tags: Stair safety
Prevention of worn out stair steps? Go for a stair thread profile 
You renovated your stairs, looking at the result you feel good! For a moment you think back to the point where you said, the stairs does need a make-over, you read about it on the internet. Getting inspiration and doing the whole renovation by yourself. Now, how can you prevent that you have to renovata again in a couple of years? You don't want to paint your steps again in a couple of yours because it is quiet the job! You can remember reading something about a stairs-profile, but what was that again?
What is a stair step - profile
A  stair profile is put at the nose of the stairstep and is there to protect your stair thread. It helps to prevent against damages and makes it more safe than a antislip rubber strip, because it gives more grip. More stairs in big buildings have one of those stair profiles, this because those stairs are used way more then a normal house-hold stairs. 
Different profiles
- Stair profile Aluminium
- Stair profile aluminium and pvc
- PVC 
Hall ways that have concrete stairs, don't need a special profile on the threads, because concrete doesn't wear out so easily. Also for marbel or glass stair steps a product like this is not necessary.
For a lot of situations the aluminium profile is ideal, think of shops, or outdoor purposes such as wooden stairs that can get slippery when it rains. 
The aluminium is available in black, silver & gold color and a special model with a rubber input for extra antislip. 

-Stair profile in aluminium
An aluminium stair profile is available in different lenghts. There are models that can be screwed onto the stair steps and there are models that can be glued onto the surface with a special dubble sticky tape. The aluminium frame can be made into the right size with a ironsaw.
-Stair profile aluminium with PVC rubber
The aluminium stairprofiles have a broad pvc strip with more antislip grip in combination with the aluminium grip this works perfectly. This strip is suitable for outdoor situations and moisture rooms such as a sauna.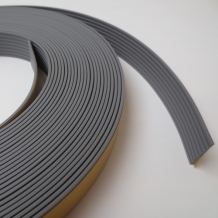 - Stair profile pvc with self adhesive stair tape 
You don't like this metal frame strip on your stairs? You can go for an pvc rubber self-adhesive stair strip. This strip is available in different sizes and  colors and matches every stairs.  There is no better protection than this product. Easy to apply by everyone and gives a good protection. 
This is how your stairs will look like 
Dennis
-
Back