Moonshaped mats for stairs create a good anti-slip
Posted on: 12-11-2019 om 15:22:15 | Dennis vd Burg | Tags: stair safe
Replacing moonsshaped stairmats, do think of the anti-slip and so
Does your stairs look like it needs a renovation? Are your old stair mats in moon-shape ready to be replaced? It might be a nice winter task to remove them & give a fresh layer of paint to your stairs.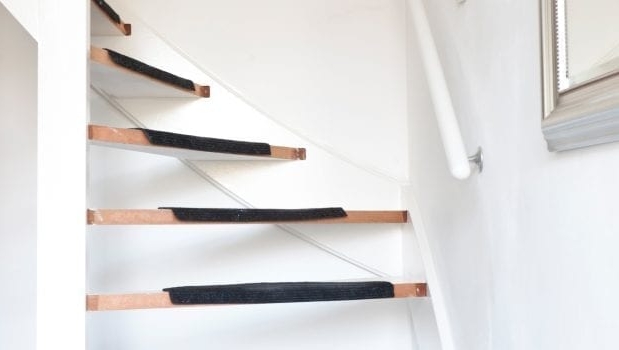 This is not such a difficult thing to do, with the right tools & good quality paint it is something you will not regret later! These days there are special stair paints that you can find at a construction market.

This special stair paint is extra strong and will help keeping your stairs beautiful for a longer period of time. Once you have removed the stair mats, very often a small layer of glue will remain on the surface, this is easy to remove with a sticker remover or for example a WD40 spray. Spray this lightly on the glue leftovers and let it sit for 15 minutes. With a little sponge, you can then with rotating movements remove it. Use a wet cloth to rinse the surface.
Use a sandpaper to softly treat the surface & clean it with a cloth & a new layer of paint can be aplied. Get inspired about the color or effect you want to give to your new stairs.
These days it is a big trend to create a concrete look or a vintage look to your stairs. If you are not up for replacing your half moon shaped mats again, there are other options available too to remain the safety of the stairsteps. For example a self adhesive stair tape, that is available in 8 different colors such as traditional black & modern white.
This anti slip strip is very strong & has a special glue that will hold on to the surface for a very long time. You can also buy this strip as a complete set you can be sure of the wished results.
Back