Renovating your unsafe stairs with a budget? We show you the way!
Posted on: 08-06-2016 om 16:56:31 | Dennis | Tags: Stair renovations
Renovating your stairs with a tight budget? It is possible!
Renovating your unsafe stairs with a budget? We show you the way in this blogpost.
Does your stairs looks dirty, old and you have no idea where to start? I will give you some tips and possibilties to show you how to get a beautiful stairs again when you don't have a lot of money to spend.
First you have to remove the dirty old carpet. Most of the time the carpet is stuck on the treads with glue and staples. When the carpet is really really old I recommend you to cover your nose and mouth with a dustmask, because the old carpets will be full of dust but also the bottom layer of the carpet can cause allergic reactions.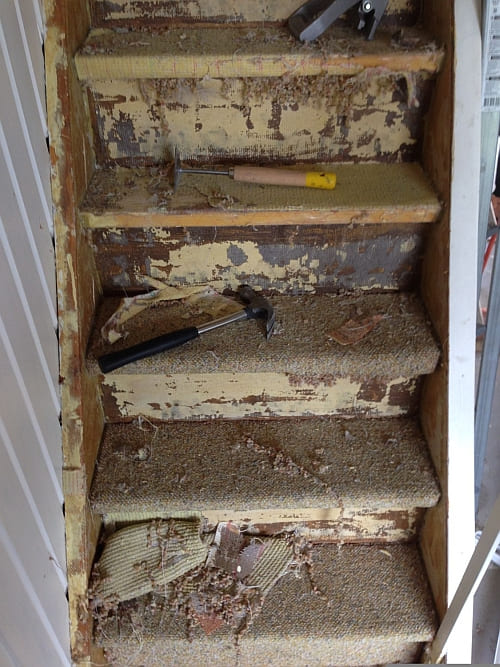 If you only have carpet half moon stairmats, this job is pretty easy. Most of the time the glue layer that remains can be easily removed by any kind of sticker remover.
Once you have entirely removed the carpet, the most difficult part begins. Removing the glue and the staples and sometimes even small nails. Sometimes at the front of the tread there can be a wooden frame, which also needs to be removed.
First wet up the glue with a little bit of hot water and let this souk in, so the glue will be easier to remove. Most of the glue used for stair carpets is made of a 1 component type of glue, so will desolve when in touch with water. After one hour or so you can start to scrape off the glue. A good tool for this is a triangleshaped paintscraper. To make sure you don't scratch up the wood to much, you have to polish the tips a bit. In this way you will be able to remove as much glue left on the treads.

This is a pretty challenging thing to do, but if you do this in the right way it will help you and make things lighter when you are going to use sandpaper. Also your sandpaper will last way longer by preparing the treads this way (money saver). Start at the top of the stairs to prevent dust and so on to go through the entire house.
If the paint and glue residues are very stuck on the wood, you could also use a paint hairdryer and burn of the paint. But make sure when you do this, to use proper gloves and make sure you don't burn your hands. If you don't have such a device, you could use a toxin product that will desolve the paint. Make sure you don't get that stuff into your eyes.
After a couple of days of hard work your stairs will be totally free from any glue and paint, and that is the moment to clean it properly with a vacuum cleaner. The chinks need to be completely without dust and dirt. If you don't do this, you have a chance your stairs will make cracky sounds. For this step use a good quality vacuum cleaner in combination with a spatula, to scrape the dirt out of the chinks.
Once you have properly cleaned your stairs and all the dirt is gone, the chinks need to be closed up with a flexible kit. This way you will be sure that later on, after painting, the stairs will not squeak either. Now it is up to you how you want to finish this. You could give the stairs a clear laquer, or give it maybe an old look by only using a layer of water/oil coating. Another possibility is to paint the stairs in a grey concrete look, or just choose a beautiful white color that is really trendy these days. In my previous blogpost I wrote about how to properly paint your stairs, check it out if you like.
You will discover there are a lot of ways to give your stairs that new look that it deserves. But another very important thing, besides from the looks, is the safety. Old stairs most of the time have very narrow treads and it is not that easy to place the entire foot on them. Even if this is not the case for your stairs, it is always a good idea to apply a non-slip adhesive strip. Of course there are many models and types for sale, but most of them are really cheap and this also shows in the quality. It is up to you to decide rather you go for budget or a little bit more and have a strip that will last way longer and is more sustainable.
If you feel like getting some inspiration on what to do with your stairs, check out our Pinterest where we show you all kinds of cool pictures and examples of how to decorate or renovate the stairs or hallway. Besides from painting the stairs, you could also pick a wallpaper of special foil, options are amazing!
Just to give you an idea about the budget needed to renovate your stairs
Schraper €12,50
Sandpaper €25,00
Dustmask €15,00
Flexible kit €20,00
Paint €75,00
Non-slip adhesive strip €50,00
Total of about € 197,50
Writer: Dennis
Back