An antislip strip gives your old unsafe stairs a lot more safety
Posted on: 11-03-2015 om 13:37:09 | Dennis van de Burg | Tags: Non-slip tape, Make your stair safe
An antislip strip gives your old unsafe stairs a lot more safety
If you have an old stairs with slippery and narrow treads, a non slip adhesive stair strip is the best solution to make it safe again.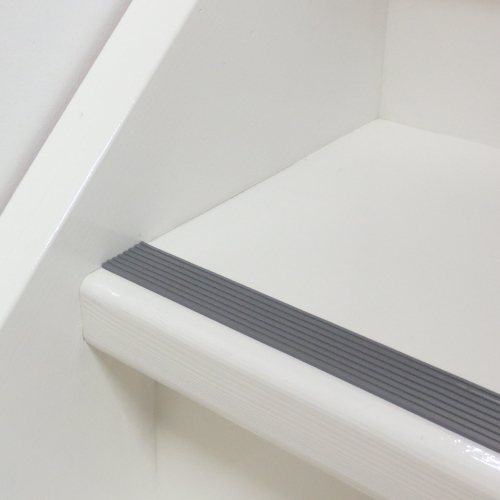 Because of this the strips give a very good grip and have a perfect antislip effect. The antislip strips have a long lifespan and are very sustainable because of this.
It is very easy to apply the strips on the treads by yourself, because they already have a glue layer on the back of the strip. Basically anyone can do this, even if you are not a renovation expert.
The strip can be cut in the exact right size with a basic scissors and with a paintroller you press the strip firmly onto the treads. The only thing you have to do is make sure that the surface is properly cleaned and dry. This special developed stai strip is also available in trendy colors such as grey and RAL 9003 white.
There are a lot of antislip tapes available that claim to have a good grip, but in reality this is not really true. Often the strips are very thin and not very sustainable. Also they wear out pretty easily because of this. You can buy an adhesive strip at a construction market, or even an IKEA, but even those strips are really cheap and not very good quality. The price of course seems interesting, but in the long run it is better to make an investment instead of only looking at the price.
Back
Comments
Login to give reaction Your comment will be posted as soon as it is approved.