Antislip stair tape for your stair treads
Posted on: 24-11-2014 om 16:02:27 | Tags: Non-slip Adhesive strip
Antislip stair strips give a lot of extra safety
Often you hear about children or old people falling down the stairs. Most of the times there is no way to break your fall so people endup breaking their arms or legs, or maybe even worse.
There is an easy solution to create a more saver environment so if you have a painted stairs it is very easy to apply an antislip stair rubber strip. These strips are adhesive, so it is very easy to apply them on to your treads. Even if you have no experience at all, these can be done easily.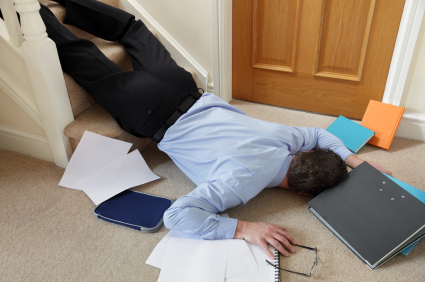 The antislip stair strip is available in different prizes and qualities. For example you can buy one at IKEA and even though it might be cheap, the quality is not that good and it will not last for years. 
here is also a antislip strip available from the 3M factory, the quality of this strip is better and it doesn't feel that sharp on the sole of your feet. The toplayer of this strip is made of some sort of rubber which gives it a smooth feeling on the top. The strip is a different quality though and there fore will wear out pretty soon, especially when you use shoes.
Also there are a lot of strips available on Ebay, in different qualities, models, sizes and prices. Basically all of them have the same base, a sand topcoating mixed with epoxy and made into a tape. Prices vary from €7,- to €20,- for about 10 tapes.
There is also a antislip adhesive tape for the stairs available made of a special rubber, and 2mm thick. This is the best for a secure situation. The antislip adhesive stair strip is very sustainable and available in 4 different trendy colors, also a white one in the famous RAL color 9010. 
The traditional strip that needs to be placed inside the tread is also a good idea, and this strip has been used for years, down side only is that you need to be able to apply it in the treads yourself so you need to have some renovation experience, either ask a professional to do it for you which will cost you way more money. 
Most of the times when you have corner treads, you cannot make the strip go all the way to the end of the treads, because there is not really a proper device to do that. You have to stay away from the ends till about 10-15cm, which is less nice and also if you step on the parts without strip the paint will wear off more easy. Also you have to keep in mind that to make the ridge for the strip is about €10,- to €15,- a tread. 
Because of this it is common that people use an adhesive strip, that is easy to apply onto your treads without a lot of effort. Also the strip can be cut in any size you like so it is easy to let it go all the way to the corners of your treads. You can create a stencil to make sure the strip is just as long as your tread and to be sure you cut the tape in the exact right size. Check out or application video for more information. 
Back