Stair safety for toddlers & the elderly
Posted on: 04-11-2015 om 16:08:23 | Joyce | Tags: Children and stairs
A safe stairs for everyone!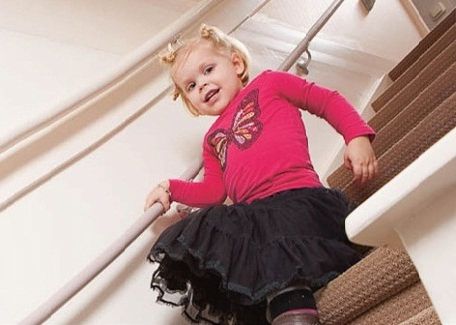 There are not a lot of blogs or articles written about stairs or stair safety in particulaar, even though every year a lot of accidents happen because of the stairs.
In the early days the stairs where way more steep which creates an easy accident situation. In the Netherlands there are still a lot of these unsafe staircases. Often going to the attic, one choses a small vlizo stairs, an unfoldable stairs. This is a great choice if you don't have a lot of space, or not enough space for a big stairs.
Luckily over the last years a lot more attention is being given to the stairs and how to create a safe situation. For example we now have big building regulations that make sure that new build houses contain a proper stairs. A stairs these days needs to have two treads extra then before which gives way more room in the stairs. The treads are deeper, it is way easier to place your feet onto them which makes the entire situation a lot more safer and easier.

But if you decide to renovate your old stairs, or if you want to place a proper stairs going to the attic, these regulations are not manditory. This means that you can still get yourself a proper stairs to go to the attic, but you can also keep in mind a way to safe up space and use a bit smaller and steeper staircase.
Child safety
Children have no fear and that is also way often they ran down the stairs without thinking or realising they should be cautious. Often children end up with broken arms or legs because of this. In one year more then 4000 accidents happen, in the Netherlands alone. Sometimes also with serious output. If you only slip or lose your grip for one second, you can really hurt yourself and fall down and hurt yourself.
If you have children running around in your house, it would be a good idea to place an extra handrail on the wall, about 40cm lower then the one you already have. If the curve of the handrail is right, your child will have an easy way to use it and can go up and down easily and safe.
Make sure the treads are not to slippery. Make sure they have a good grip. For example get a non-slip adhesive rubber strip, over the entire length of the tread. This will make sure their tiny feet with slippery socks on will stay on the tread and cannot slip.
Did you ever seen those half moon stairmats? When they start to curl up at the edges, these things can be very dangerous for not only your kids but also for you! When they start to curl it is time to exchange them for new ones or pick another product that matches your idea of a safe stairs.
If you have a young toddler, it might be a good idea to get a wooden balustrade fence at the top greatest importance. You can buy beautiful stair products at Stair Care, who sell everything needed for your stairs. They are a true speciallist. If your treads are small and steep, consider to apply a non-slip stair tape onto them. This is not an extra luxury, but a need to prefend any accident from happening. Some of those strips need to be placed inside the treads, but some of them are easy to paste on them yourself. Check out the internet to find more proper ways to get your stairs as safe as possible.
Replacing carpets or half-moon stairmats
The last years we are starting to see that carpet on yours stairs is not that common anymore. Most people try to find a way to keep their home neatly and better to clean and this also involves the staircase. Most people, when they have the time and money, get rid of the carpet and paint the stairs in a new fresh color.
The paint has gotten better during the years so there are too many options, for example a metallic look or concrete look. If you also want to create some safety after painting, it would be a good idea to apply a non-slip adhesive strip. Don't forget about the finishing touch!
Non-slip rubber strips on your stair treads
You can choose between gettting a small gutter in the treads, to place in a rubber strip. If you don't feel like spending to much money on it, or if you are not technical enough to do it yourself, you can also choose an adhesive strip. You are able to apply these strips by yourself, without any crazy tools or experience. This tape is suitable for almost any stairs, so do not hesitate and make it easy on yourself.
Stair renovation
Because a lot of stairs are made of the cheapest wood there is, pinewood, it is not always easy to renovate it without making it ugly. You could ofcourse try to get rid of the old glue layers used to keep the carpet on it, and use sandpaper to make it fresh again, but this will not always work. You also have the possibility to cover up your old treads with new layers of wood, or a cheaper way laminated ones. You can go to any construction market to get these covertreads, or look for a professional online. There are different companies offering these services.
Blog writer:
Dennis
www.antisliprubbertape.com
Back
Comments
Login to give reaction Your comment will be posted as soon as it is approved.