Easy Steppers, an easy tool to go up the stairs
Posted on: 15-12-2017 om 13:08:11 | Jeroen Hooijmans | Tags: Anti-slip solutions stairs, Seniors walking stairs
The Easysteppers a handy aid for climbing stairs and much more safety

The Easysteppers are an ideal aid to continue living at home longer and to continue to use the stairs. You read it very regularly, we actually want to live at home as long as possible. But what about when you get older or suffer more and more from limitations, such as when climbing stairs. You can then opt for the traditional stairlift. Of course a great solution, but often a very expensive one and not accessible to everyone.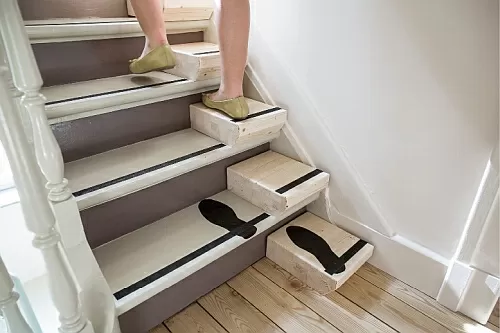 The Easy Steppers may be a good alternative for this, very handy wooden blocks with a non-slip profile that halves the step, so that the load on the knees and hips is much less.
Blog writer: Dennis
www.antisliprubbertape.com
Back
Comments
Login to give reaction Your comment will be posted as soon as it is approved.