Give stairs a new coating how do you do that?
Posted on: 18-07-2022 om 17:07:55 | Dennis van de Burg | Tags: Painting tips for Stairs
How to paint and refurbishing your stairs

Do you still have carpet on the stairs that needs to be replaced and would you like to give a beautiful white-painted staircase and the hall a new modern look? Are you handy, careful and patient? Then you can do this yourself.
Traditionally, a spruce staircase is often placed in a house, these are usually covered with a soft floor covering because spruce is not really a beautiful type of wood.
You see more and more changes in this in recent years. The stairs in 2017-2022 must be sleek in shape, with modern natural colors. Your idea to give the stairs a beautiful white color is therefore not so strange and really up-to-date.
The trends in interior design have changed enormously in recent years, from a Scandinavian interior to industrial or Shabby Chic, all trends are moving towards clean lines and a maintenance-friendly interior. The white color is therefore often used in the current interior.
There are different ways of painting to give your stairs a nice sleek look, so you can finish the stairs with different types of paint and surface treatments. I will tell you more about this later, but first we will list the costs for you!
If you know roughly what you need to do in terms of work to make a beautifully painted staircase and you have also decided to do it, then it is also good to know before you start what the costs are to buy paint and tools .
Because paint has become quite expensive these days.
You read many different results about what the paint costs are about this, some are really not correct. I'll try to explain to you what you're dealing with roughly.
A standard staircase usually has 1 turn, it can be above or below. Most stairs in the Netherlands are around 85cm wide and have 13 steps or 15 steps. If you add up the surface area of ​​these steps, you have approximately 7m2 of surface area for the steps.
Then you get the sides of the stairs about 2.5 m2 and if you have a closed staircase then you also have 13 risers that need to be painted.
Calculation example m2
15x85x30= 3.8m2 steps, this 2x ie also the bottom is 7.6m2
500x35=1.75m2 for the cheeks (sides)
15x85 18=2.29m2 for the risers (against steps) also the back is 4.5m2
And then you sometimes have a fencing on a stair string and a fencing around the stairwell for this you need about 4m2.
Add this together and you have approximately 17m2 of surface to paint your stairs. You can paint about 9 m2 with 1 liter of paint, then you need 2 liters of paint to completely paint a staircase.
You get the best result if you put the stairs in 2 layers of ground primer and 1 layer of topcoat. So a total of 3 layers.
Primer 4 liters (2 layers) approximately 30.00 per litre. 120.00 euros
Topcoat 2 liter (1 layer) approximately 45.00 per litre. 90.00 euros.
This calculation shows that you have to spend about 200.00 euros on paint to provide your stairs with a good and strong coat of paint. Then you also need sandpaper and brushes / rollers so that you spend a total of about 230.00 on paint and tools.
That is a nice amount, of course you can decide to apply 1 layer of topcoat, this will save you 1 liter of paint and approximately 45.00euro.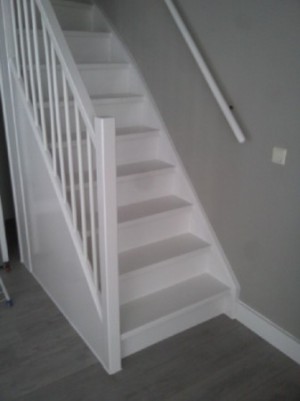 There are various ways to give the stairs a nice sleek look, such as:
paint opaque colors.
concrete look and effect paints (the current trend).
cover with an MDF renovation transfer step and then paint.
clear coat.
finish with a color oil.
MY TIPS
TIP 1
Each method of finishing requires a different method, I will discuss them here one by one.
Opaque finish with color painting
If you choose this option, it is necessary to first remove the floor covering and/or the stair moons and to cut off or scrape and sand the old glue residues. This is quite a job as a do-it-yourselfer, where you have to take into account a number of things, read here with which, because you still want the best result.
Carefully moisten the remnants of glue on the stair tread and risers with a damp sponge and let it soak in. This makes most floor covering adhesives soft, making it easier to scrape off the old adhesive.
Work from top to bottom and always clean the steps well. Also vacuum all glue residues, sanding and paint residues very carefully from the cracks (where the step fits into the stringer and stair spindle).
You'll need a couple of good flat paint scrapers and an electric orbital sander as tools. Sandpaper not too coarse because most stairs are made of spruce wood which is very soft.
Otherwise, you simply sand potholes in the steps. Grit 80 to start with is an excellent size. Then sand as a final sanding with 120 grit.
A paint burner (say Hair Dryer) is also suitable for heating the paint and then scraping it off. After this you can do the sanding process again.
Do the entire staircase in this way. I can't say it often enough, but make sure all dust and clutter is removed from cracks as much as possible.
If you forget this and you start painting the stairs, the paint will run into these cracks and you will get an increasingly creaky staircase [because the paint hardens] and of course you don't want that.
When you have completely cleaned the stairs, carefully seal all cracks and seams with a flexible acrylic sealant and lubricate the joints tightly.
Let the stairs dry thoroughly before applying the first coat of paint. Fill any holes from nails or staples for a nice smooth finish.
TIP 2
Once the sanding process has been completed and the stairs have been sealed, moisten the stairs again with a damp cloth or sponge and let it dry thoroughly. As a result, the wood fibers come up again and the wood becomes rough again. Then you sand this wood fiber away again with a 120-grit sandpaper.
If you now apply the first primer layer, the wood fiber hardly rises anymore, so that you can usually suffice with 1 good primer. You will then no longer sand the primer off. If this does not work, you will have to apply a second primer layer.
TIP 3
When the stairs are sufficiently dry, you can start painting your stairs. Use a good filling primer for this, there are different brands of Histor, Flexa or Sigma here.
First paint the stringers (sides) and the stair pivot, then the risers and finally the steps. Paint the steps alternately, so skip each step so that you have enough space to continue climbing the stairs.
You prime a painted staircase once, but it is best to prime a bare sanded and primed staircase twice. Sand the intermediate layer with a fine sandpaper grit 180, try to sand through the paint as little as possible.
When the base coat has dried sufficiently, you can start painting the stairs with the color paint you have chosen. You also have different types of paint for this, such as an acrylic paint, a chalk paint and an alkyd paint, the latter is based on turpentine.
Again, use the same painting sequence as for priming. There are different topcoat paints in terms of gloss level, it is important that before you walk on the stairs intensively, you must allow the paint to dry well for about 7 days before you place moons or anti-slip strips on the stairs.
If you want to quickly and easily give the stairs an anti-slip in the color in which you painted the stairs, request a sample card with all colours, you can also check the site for the RAL codes.
Then you can have the finishing layer mixed in the ral color of the anti-slip strip. If you want to apply stair moons, pay attention to the qualities, because there are many different types of stair moons in different price ranges.
____________
If you want to give the stair treads an extra strong wear layer, you can also choose to apply a polyurethane finish as the last layer over the color paint after the topcoat.
Only stepping on stairs is sufficient in this case. It also applies that you must allow the steps to dry well before you start loading them.
If your stairs are still too slippery for you and if you want more safety, you can also provide the stairs with a non-slip stair strip. You can then choose anti-slip strips that you can stick, watch this information video how easy this is.
And see below how nice results you get.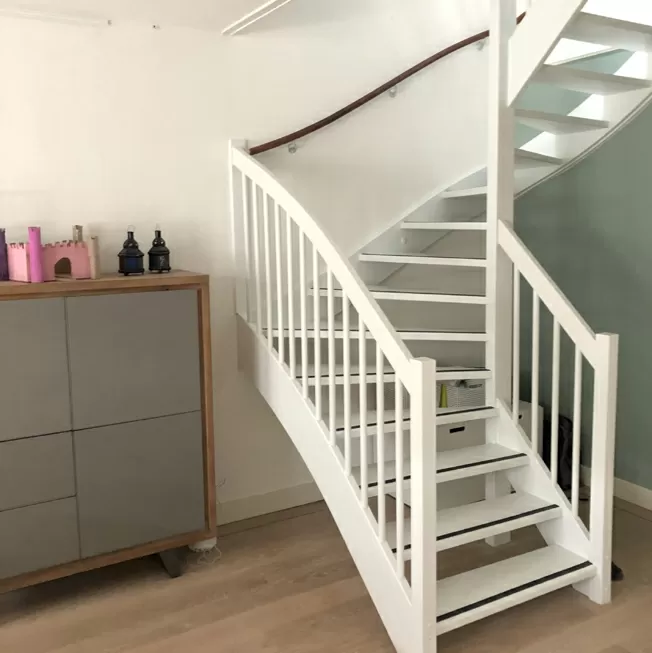 Do you want anti-slip in a groove, making such a groove yourself is quite difficult. You can also have it done by a handyman. For approximately 225euro per staircase you have a groove in each step in which you can clamp a non-slip strip.
If you have a rented house, first ask the housing association whether this is allowed, because many housing associations do not allow this.
If you opt for stair mats or stair buddies, or a traditional fabric stair runner, do this only after these 7 days by drying the paint.
So that the double-sided tape or stickers with which you use these moons or your anti-slip adhesive layer will not dissolve the paint. This can happen with some acrylic paints.
________________________________
Painting your stairs in concrete paint effect
All the way in is painting your stairs with a look as if it would resemble concrete. Nowadays you can buy different paint systems for this.
You have concrete paint systems that you can buy ready-made at the various hardware stores, there is also a concrete stucco for sale, a kind of plaster that you can apply with a trowel.
This concrete stucco is also suitable for a wooden surface. Watch a YouTube video on how to do this, you should be a bit handy for this.
TIP 4
If you want to get it right and apply a paint system, you must first prime the stairs with a good gray primer. Mix the primer in the color of concrete, preferably a little darker.
You can apply this paint with a coarse brush and apply it in alternating strokes, diagonally and horizontally and also apply different thicknesses.
You can also, for example, scrape locally with a putty knife and try to create a concrete look. Try this out on a piece of mdf first so you know what the result looks like.
Let everything dry well for a few days. Then sand locally and also damage it here and there locally as you see in concrete.
After this you apply a slightly lighter color chalk paint which you apply thinner and work here and there with a sponge or a spatter brush, or with a cloth and a flat brush locally wipe some off. This creates the concrete appearance.
A matt transparent lacquer layer is often applied to prevent the paint from wearing out to prevent it from wearing out quickly. If you also want to give the stairs good anti-slip properties, you can buy our gray concrete anti-slip adhesive strip.
If you buy this first, you can have the color of the gray mixed on this strip. Then the strip is not so noticeable, but you still have the advantages because the wear of your stair treads takes place less.
Watch here how Freddy Hoevers transforms a table top from wood to concrete.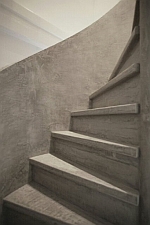 TIP 5
Painting your stairs in a Vintage look, (shabby chic) then use a chalk paint, the big advantage of this paint is that it is water-based so you hardly smell the paint and the paint dries very quickly, you get the real vintage look. You can do this by applying several layers and different colors of chalk paint on top of each other.
You can easily sand through the layers with a blunt piece of sandpaper, (you can easily make a blunt piece of sandpaper by sanding 2 pieces over each other, so that the sharpness is slightly reduced) sanding with these blunt pieces does not give any scratches in the paint layer.
In this way you give wear spots and minor damage to the surface, this gives it an old look and this gives your staircase this beautiful vintage look.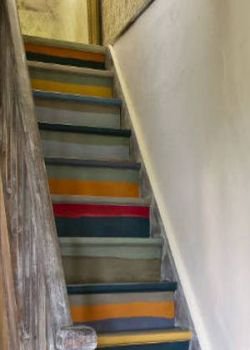 ____________________________________________
Cover with a renovation transfer step of, for example, MDF.
Are your stair treads worn out too far or are you no longer able to sand your stair treads nicely and evenly smooth, then painting these stair treads has become pointless.
You can then also give the old staircase a beautiful new look with a transfer step, this is a step over step system, as it were, a new step is placed over the old stair step. Okay, this is not a painting tip, but it is a very good way to give your stairs a new look.
There are different brands and qualities for sale. Learn about this because there are major differences, especially the construction and the top layer can differ enormously.
For 300.00 euros you already have a complete set for 1 staircase for sale, for example at the hardware store. MDF transfer steps are also available at the better hardware stores that are already primed. You can easily saw these to size and place them over the worn out old steps.
You can also buy online from the stair renovation specialist, then you have top quality, but you pay for that. For example, with Lamiwood stair specialists you pay approximately EUR 1200.00 for a complete set.
The material is then built up from the following raw materials, the thickness and quality of the melamine top layer determines the strength and resistance to wear.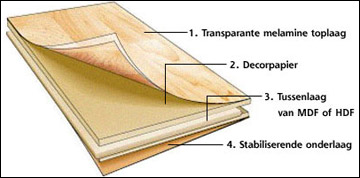 Lamiwood specialist sells a German brand of top quality and with many beautiful decors, from a concrete look to a scaffolding wood look and everything is available such as frames for the bottom cover for if you have an open staircase or for the sides at this company you can do everything online. to order. You then have to take care of the installation yourself.
If you are not handy and want to have this installed, you can also opt for Upstair stair renovation, for example, they come to your home, advise you in all kinds of areas and also arrange the installation with your own technicians.
Here you have to take into account sales prices of 3,000 to 4,000 euros, you can see that there are huge price differences in the products. If you are handy and have the right tools, this is of course a very good solution.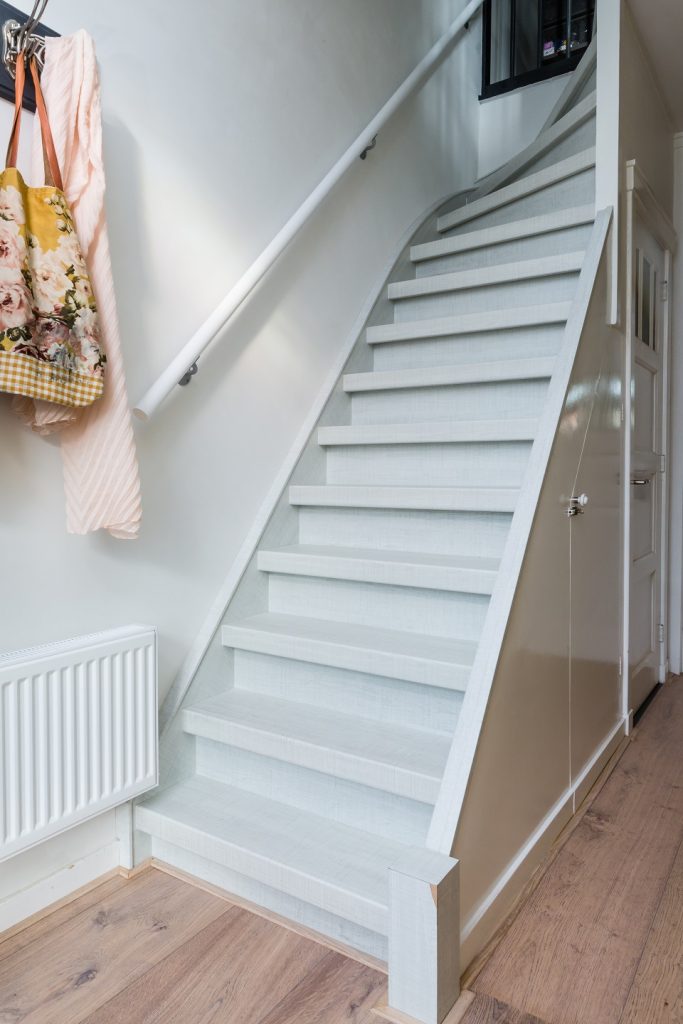 _____________________________________-
Clear coat of stairs.
Do you have a hardwood staircase, or does a nice dark color wood appear after sanding, usually in the Netherlands the stairs are made of meranti or iroko wood, a reddish-brown type of wood, you can also choose to finish the stairs work in a clear coat.
Special staircase lacquers have been developed for this purpose, which are made on a polyurethane base that are very strong, so that the wear of the lacquer layer is greatly reduced.
Varnishing wood gives a nicer and deeper shade to your stairs. If your staircase has not been painted but has been varnished, it is usually not a spruce staircase, but a harder type of wood such as oak or beech wood.
These types of wood are much harder, which means that your stair treads also wear out less quickly.
Nowadays you also see more and more that the stairs are made of rubber wood, or bamboo, both types of wood come from managed forests, making tropical hardwoods less and less popular.
Would you like to have such a staircase made? Take a look at Trap Direct, they make stairs in these types of wood.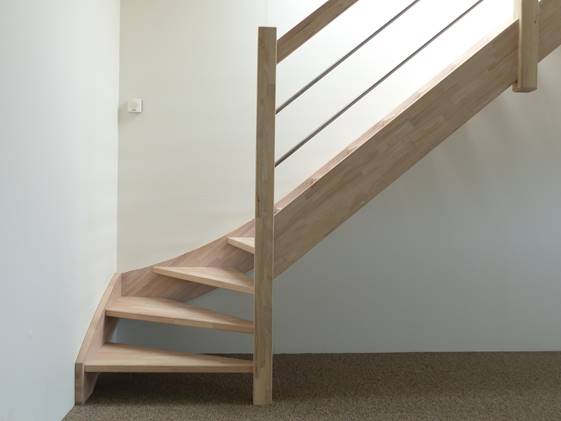 _____________________________
Finish your stairs with a color oil.
Nowadays, stairs are often finished in a color oil. A monocoat oil is extremely suitable here, this oil is also used for wooden floors, but also often for wooden stairs.
With a special sanding pad, the wood is rubbed with this oil in circular movements, then you let the oil soak in for 20 minutes and polish your surface dry.
After 24 hours of drying, a beautiful thin silk matte layer has been created that gives the wood a beautiful deep color. This monocoat is available in many colors. For example, if you now have an oak wooden staircase, you can make a beautiful color with this.
Oak wood is ideally suited for this monocoat oil, which is available in more than 70 colours.
Stairs that have been treated with a color oil have a number of advantages, but the most important is that if you walk the stairs dull or the wood becomes a bit bare, you can re-smear the bare spot with this oil and after it has been absorbed and dried, the bald spot disappeared.
Stains caused by water can also be treated well with this monocoat and in contrast to a transparent lacquer, the appearance of oil is not shiny, but a matte natural one.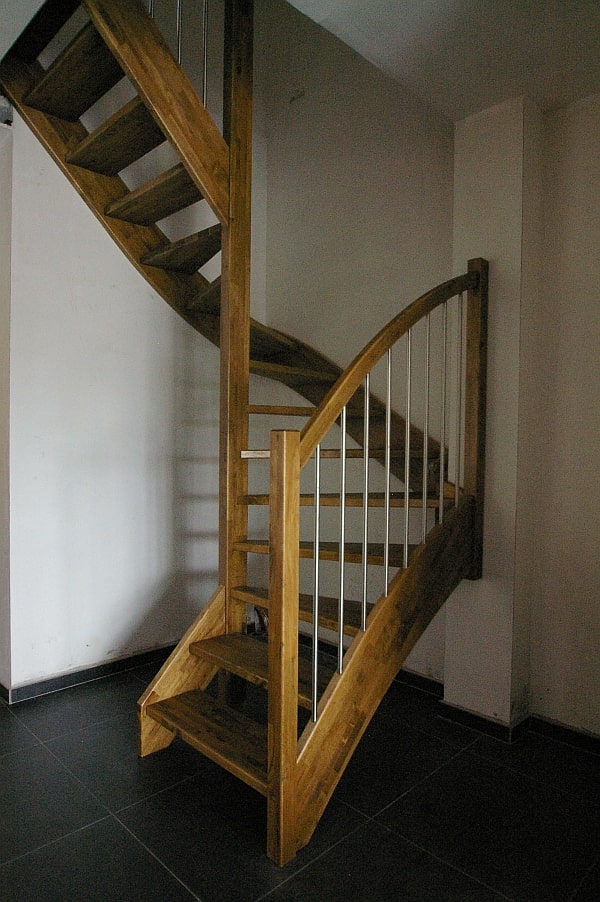 Blogwriter:
Dennis van de Burg
www.antisliprubbertape.com
Back
Comments
Login to give reaction Your comment will be posted as soon as it is approved.