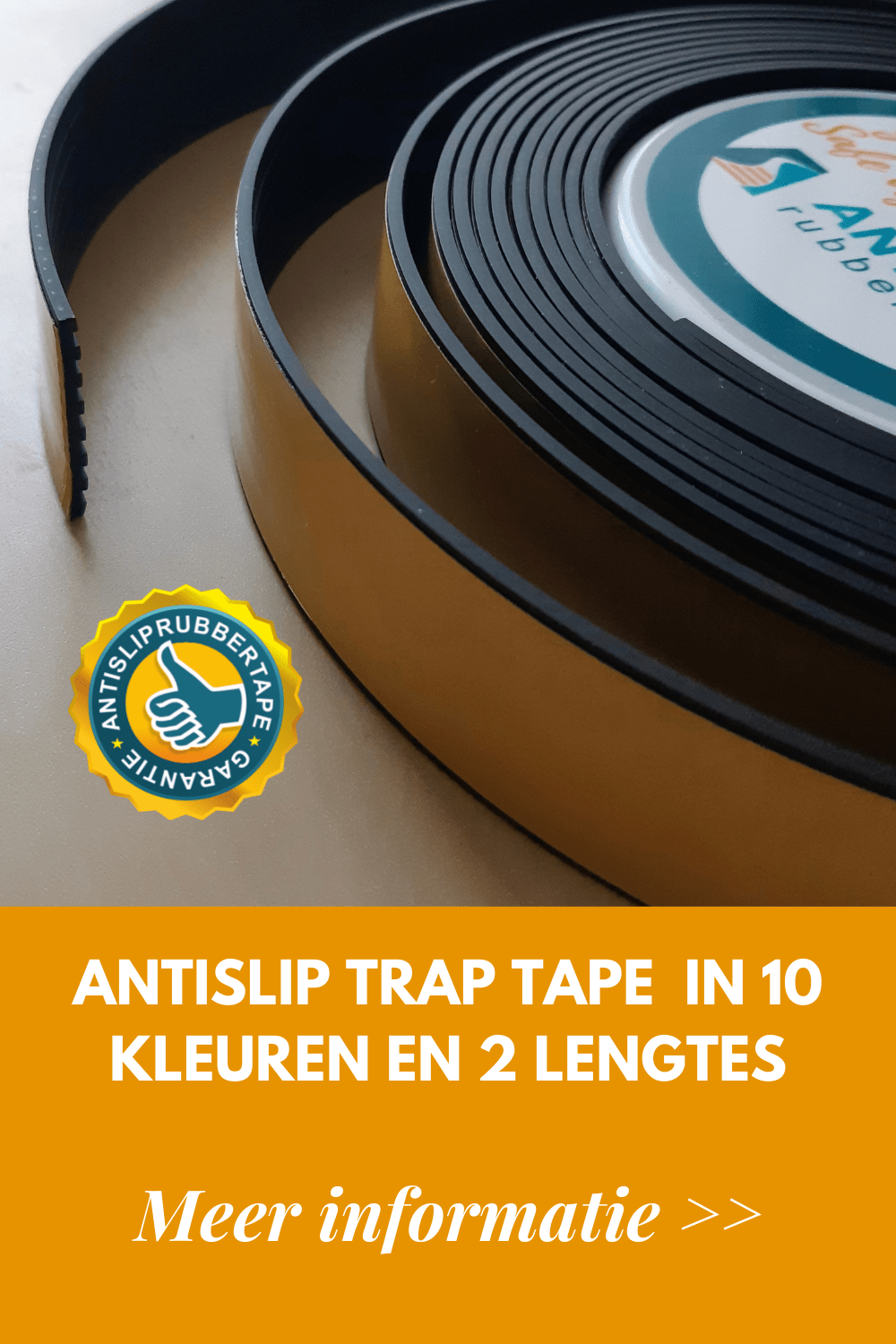 Anti-slip tape is a widely used product to make stairs safer.
You are probably looking for this, otherwise I don't think you would have ended up on this page. The stair anti-slip tapes are available in many types, sizes and colors. Before you make the purchase, I would like to ask you to read this article.
†
The prices of anti-slip tapes vary from 15.00 euros to 70.00 euros. They are available as single strips with rounded edges and in rolls of various lengths.
†
You quickly opt for the cheapest price, but is that really wise?
They all have more or less the same composition, namely a layer of glue on which a plastic grain is glued, which makes it look a bit like sandpaper. You also have many different quality types of sandpaper, some can be used for a long time and others are quickly used up. In fact, this is also the case with the anti-slip tape versions.
†
The anti-slip effect of these products is good, which is why they are also widely sold, but the lifespan is a point of discussion, because they wear out quite quickly, so that the tape only has a short life.
†
So you can't really call this product sustainable. Without completely losing weight now, you can say that the price of approximately 15.00 euros for this anti-slip tape is not really expensive. You should therefore not expect much from it, it will work well for quite a few months and will stick.
†
A non-slip tape with the quality of a strip
You cannot compare the anti-slip tape made of anti-slip rubber tape with these products. Due to the composition of the material (PVC/elastomer), this tape has the quality of a strip and is very strong and wear-resistant, making it very durable.
†
This is also the reason why anti-slip rubber tape was created in 2013. A good and sustainable Dutch product suitable for stairs that anyone can install, those were the starting points. Now more than 8 years later, we can say that this has been successful.
†
OK, it must be said that our product is considerably more expensive. a roll of 15 meters costs just over 50.00 euros. But it can be said with 100% certainty that this anti-slip tape will last 8 to 10 years with normal use. So the math is not difficult.
†
Thanks to our customers, we have been able to improve the product stair tape over the years, such as slightly wider, deeper grooves, better adhesive layer and the colors have been adjusted from only 4 to 10 colors. So there is a suitable color for every staircase.
†
Why Anti-Slip Rubber Tape:
The anti-slip tape is on a roll of 5 and 15 meters
28mm width for the very best grip
Strong and durable material
An extremely powerful adhesive layer that does not slide
Dutch product (so no Chinese junk)
2 year 100% warranty on wear and construction
Not sharp on children's feet
Very easy to clean
†
You see there are plenty of good reasons to click through to the product page for more information