Getting older and using the stairs
Posted on: 30-01-2015 om 16:26:52 | Tags: stair safe
Getting older and safely using the stair with Antislip tape
When you are getting older walking up and down the stairs can be a tricky thing. Most of the stairs are pretty steep and the treads are not that wide, which makes it not so easy to use. The older you get, the more difficult it will be.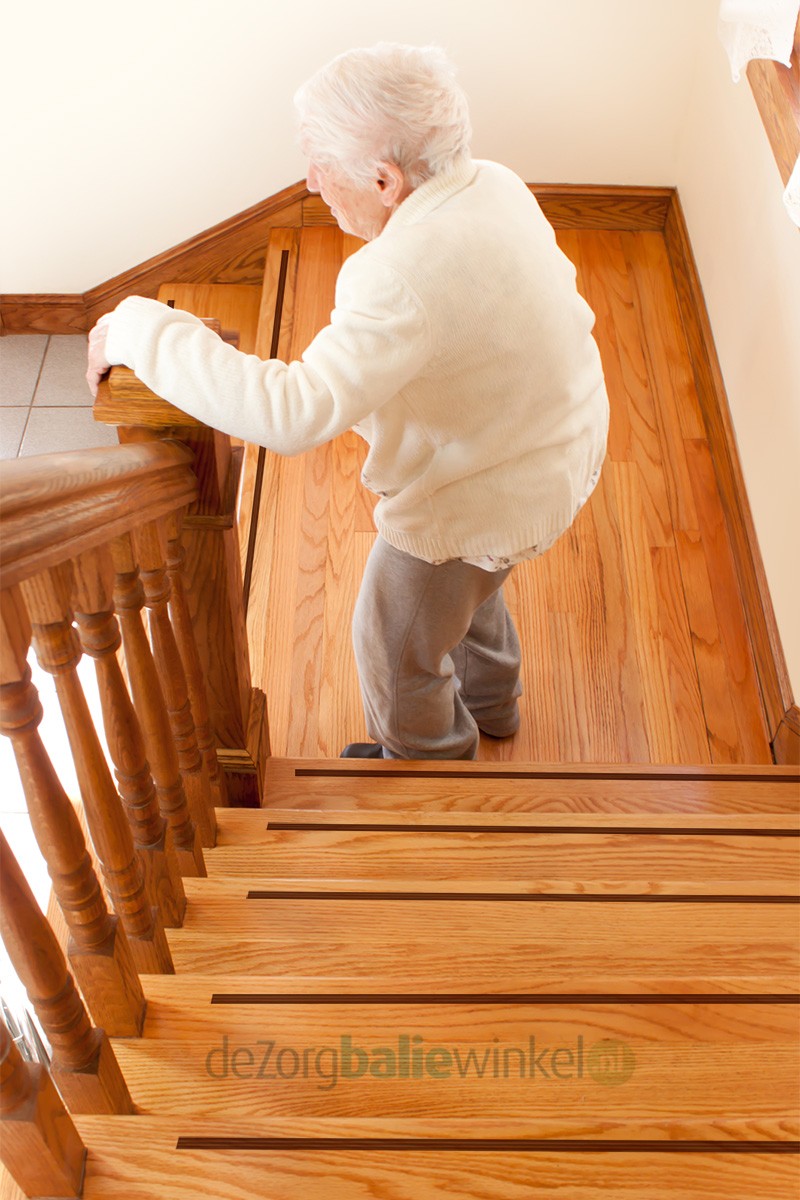 Research has shown that getting up and down the stairs is one of the biggest problem for older people and being able to stay mobile inside the house. Also a lot of accidents that acure with old people are because of the stairs. This is one of the reasons why for a lot of elder it is not possible to live in their own house anymore. 
The most important reason why walking up the stairs is so difficult is because of the strength of the muscles, that gets less and less the older you get. Moving and bending the legs/knees is not that easy anymore.
So how could you prevent any accidents to happen in your home? I would like to share with you some tips. 
Number 1 for sure
A whole lot of accidents (about 60%) are caused by not havig a railing on the wall, or one that is not properly installed. Also the shape of the handrail is very important and because of lot of people don't have a proper railing they are not so easy to grab. The best size / model for a railing is a round one with a diameter maximum of 40mm. Another very important thing is that the railing should have the same curve or straight line as the side of the stairs. If the side, that is close to the wall, is straight, you need to use a straight railing. If it is bended, you  need to get a railing in the same curve. This makes walking up and down the stairs way easier and safer. 
Number two
The one thing that a lot of people don't think of is a good quality antislip strip for the stair treads. A lot of people falling down the stairs is because of narrow stair treads and not enough grip to properly place your feet. There are a lot of different wayts to create more safer treads with a good antislip product.  
For example you can choose to cover the treads with a carpet, or get a halfmoon carpet stair mat. There are a lot of variaties and options to choose from, only thing you have to think of is to make sure the mats are properly stuck on the treads. 
A lot of half moon stair mats curl up at the edges after some time, some sooner then the other. Thats why it is a good idea to give it some research and search for a proper quality product. 
Also the famous antislip strip is a perfect solution to prevent your stair treads to be slippery. They give  perfect grip to the tread and because the strip is placed traditionally in the treads, it is a very safe solution. This product is a very good option for painted or laqcuer coated stairs. You should realize that it is not that easy to make the rut, if you don't have any yet. But you could also consider to ask a professional to do this for you. Of course this will cost you a little bit more money, but then you will have a safe stairs for years to come. 
If you want to do it the fast and easy way you can choose the nonslip adhesive stair tape. This tape can be applied on basically any material and is very easy to apply by yourself. You don't need a professional to do it for you which will save you a lot of money. Check out the instruction video and see for yourself how easy it is. 
There are a lot of antislip tapes for sale with a lot of different qualities. Some have a very short lifespan and the coat layer is very thin. Please take some time to do a research and choose the right product for your own safety. 
Back