A safe stairs for everyone, young or old, the entire family
Posted on: 11-05-2016 om 14:02:46 | Marian | Tags: Safe and secure stairs

Is your stairs safe enough?
A safe stairs for everyone, young or old, the entire family. It is possible and we like to share with you how.
When you are renovating your home these days it is also very easy to refresh your stairs too. There are special renovation treads for sale, to cover up your original stair treads. They are available in a lot of colors and designs. Another option is to create an open staircase for a beautiful open visual effect. In this case the balustrading and the risers will be removed.
With new laminate on your treads the stairs will look perfect. Or maybe you will choose a nice color of paint and paint them as new. A lot of things are possible. Of course these two options are not only good for the eye, but also easy for maintenance such as cleaning. No more dirty carpet, sticking pet-hairs, no more allergies. It all sounds perfect, but did you ever thought of the safety of you and your family? 
There are a couple of things you can do, to give that special touch to your stairs, but also make sure it is a lot safer. I would like to give you a few tips for 
an open stairs and safety.

new treads that are slippery.

leaving stuff on your stair treads.

wall railing for extra grip.

getting a mobile railing.
painted treads that need to be non-slippery.
Giving more safety to an open stairs
Small children have the tendency to crawl through the opening of the stairtreads. The height between two treads normally is around 14 to 17 cm, a young child can climb through this very easily. A dangerous situation, which you can easily solve by placing a wooden beam underneath every tread. The beam should be around 5cm thick. You can paint it in the same color as your stairs, so you will notice them only a little. There are also metal brackets for sale that can be placed at the backside of the treads. In this case the stairs will stay open to keep the open visual effect, but the stairs is 100% safe for small children. A great example of these are the open stairs of Treppenmeister, made in Germany. 
New fresh painted treads that are slippery
A great sollution is the plastic halfmoon covers, that you can cut to the correct size of your tread and apply easily on your own. These covers are very practical considering cleaning and allergies. Another possibility is to cover them with a non-slip stair tape, available in different colors for matching interiors. There is a rampingstrip for sale that will be placed inside a groove in the treads. When you are getting a totally new stairs, you could ask the stairs maker to create this before installling the stairs. If you already have a stairs and no possibilities to get it done, you could choose a self adhesive stair strip specially made for stairs.  These are also available in different colors and sizes and the advantage of this product is that it is very easy to apply on your own.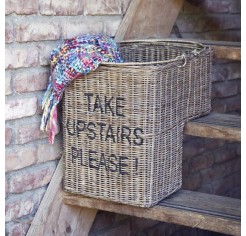 Leaving stuff on your stair treads
Cause number one of accidents that happen involving a stairs is because of stuff laying on and around the stairs. It seems so easy, if there is stuff you want to take upstairs, just place it on the bottom treads and take it with you once you go up. But most of the time people forget and slip, causing painful situations. Even the slightest thing like a childrens toy or a pile of fresh laundry can cause an accident. You can solve this problem very easily by, for example, placing a bin at the bottom of the stairs. Here you place the stuff you want to bring with you, next time you go up and no problems anymore!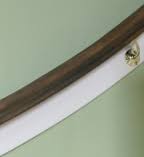 Wall railing for extra support
A wall railing is like the basic thing you should have for a safe stair situation. Going up and down the stairs without any is pretty dangerous. These days there are a lot of different models available such as metal, plastic or wood. There are even bendable railings that are easily to bend in the curve of the stairs. The best model is a round one with a diameter of 40mm. If you have less strength in your hands or if you have children, you better don't take a railing bigger then 45mm  thick. This is very difficult to grab.  Also placing the railing should be done in the right way. Most accidents happen because of a loose railing or not properly installed one. If you have a bad wall of not a good quality it could be a good idea to choose a blemish board. This will give extra safety.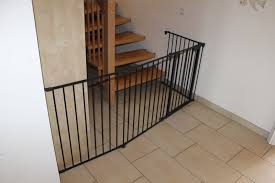 Getting a movable balustrade railing
Do you have small children? We all know that you have to keep an eye on them 24/7, or you will be in trouble. They can climb out of their bed before you know it, going down the stairs on their own, adventurous as they are. If you want to be sure that will not happen in your home, it is an idea to get a movable fence, balustrading. For example you can buy them at a construction market or do some research online. Because the balustrade fence is mobile, you can put it where ever you are, it is not only suitable for unsafe stair situations alone.
Creating roughness on your stair treads
If your stairs is newly painted you will feel that the treads are pretty slippery. In this case you can apply a non-slip layer onto them, but unfortunately this layer will wear off pretty soon and you need to apply it again. lf you go to a better quality paintshop, they will have extra non-slippery paint. They add a kind of sandpaper grain, to give it a non-slippery effect. Most of the times this does not feel comfortable to your feet at all. When you wear shoes, the layer will wear off even faster, so this doesn't seem to be a proper solution. The best option in my opinion, is to apply a non-slippery rubber stair tape to your treads. Those things last for years, easy to apply and easy to clean and maintain. Best buy if you ask me! 
Blog writer: Marian 
Back
Comments
Login to give reaction Your comment will be posted as soon as it is approved.