Expecting and using the stairs
Posted on: 13-02-2015 om 15:17:41 | Joyce | Tags: Anti-slip solutions stairs
Using the stairs during pregnancy, what to consider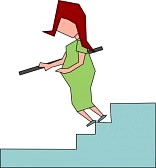 When you are expecting, you are often very busy with arranging all kids of stuff such as thinking of a name, decorating the baby room, buying beautiful clothes and so on. There is a lot you need to consider and thats why most of the times people forget to think about the stairs. There are a lot of unsafe stairs every where and when you are pregnant the body changes a lot. Because of the pelvis stability it is not that easy to walk up and down the stairs that easily.
A very important thing is that you have at least a railing on one side of the stairs on the wall side, so you have a good grip when using the stairs. Also make sure you have a good quality stair strip on your treads. For example, Stair Care is a very good supplier of different kind of railings and other stair products. If you are not that much of a pro, you could find someone to install them for you and you don't need to worry about this at all. Only thing you need to consider and keep in mind is the time frame. Not every supplier has every product on stock, and sometimes it could take up to 4 weeks before you can have your perfect handrail. Especially in case of a pregnancy, don't wait to long to get this stuff done.
If your stair treads are very slippery or short, it is an excellent idea to use a antislip rubber tape on each tread. This makes sure the tread is more rough and will give more grip to your feet. These days there are a lot of good quality strips for sale, that are also easy to apply by anyone without a lot of experience.
There are adhesive stair tapes available for sale at the construction market, but also you could get one at IKEA for example. A lot ot the times these strips are thin and cheap and this also shows in the quality. If you want to get a super safe stairs, choose quality and also a product that is more sustainable.
Back
Comments
Login to give reaction Your comment will be posted as soon as it is approved.